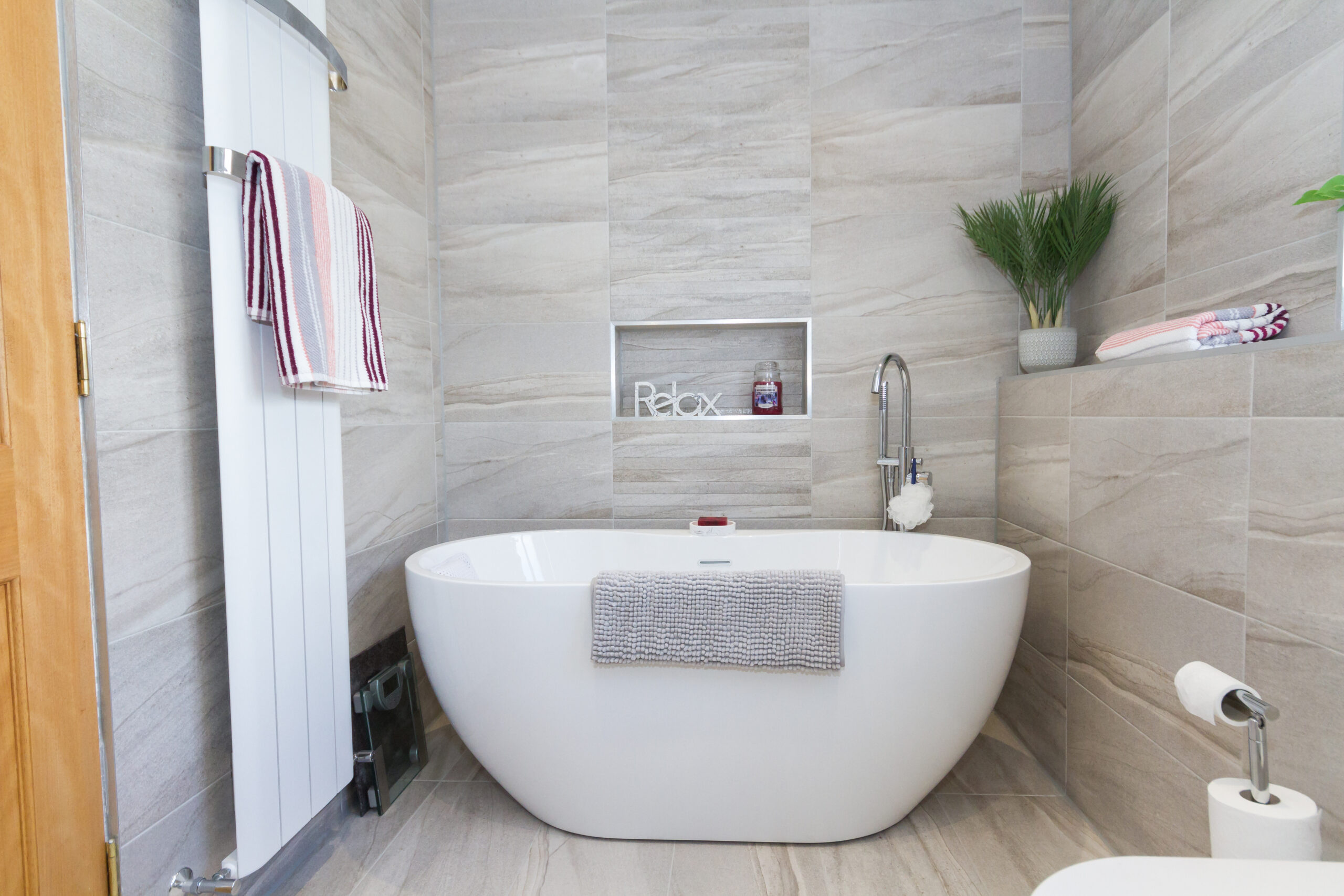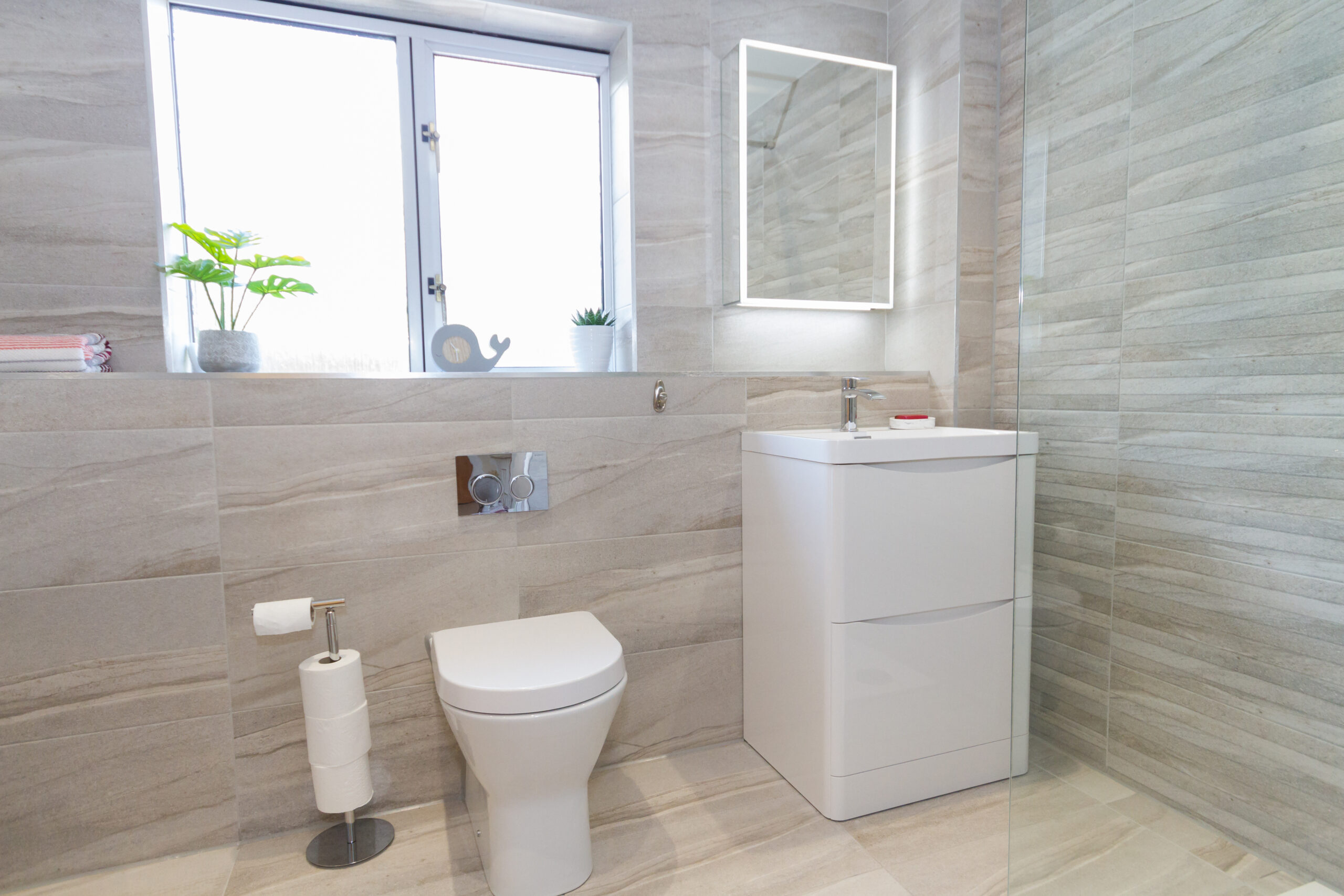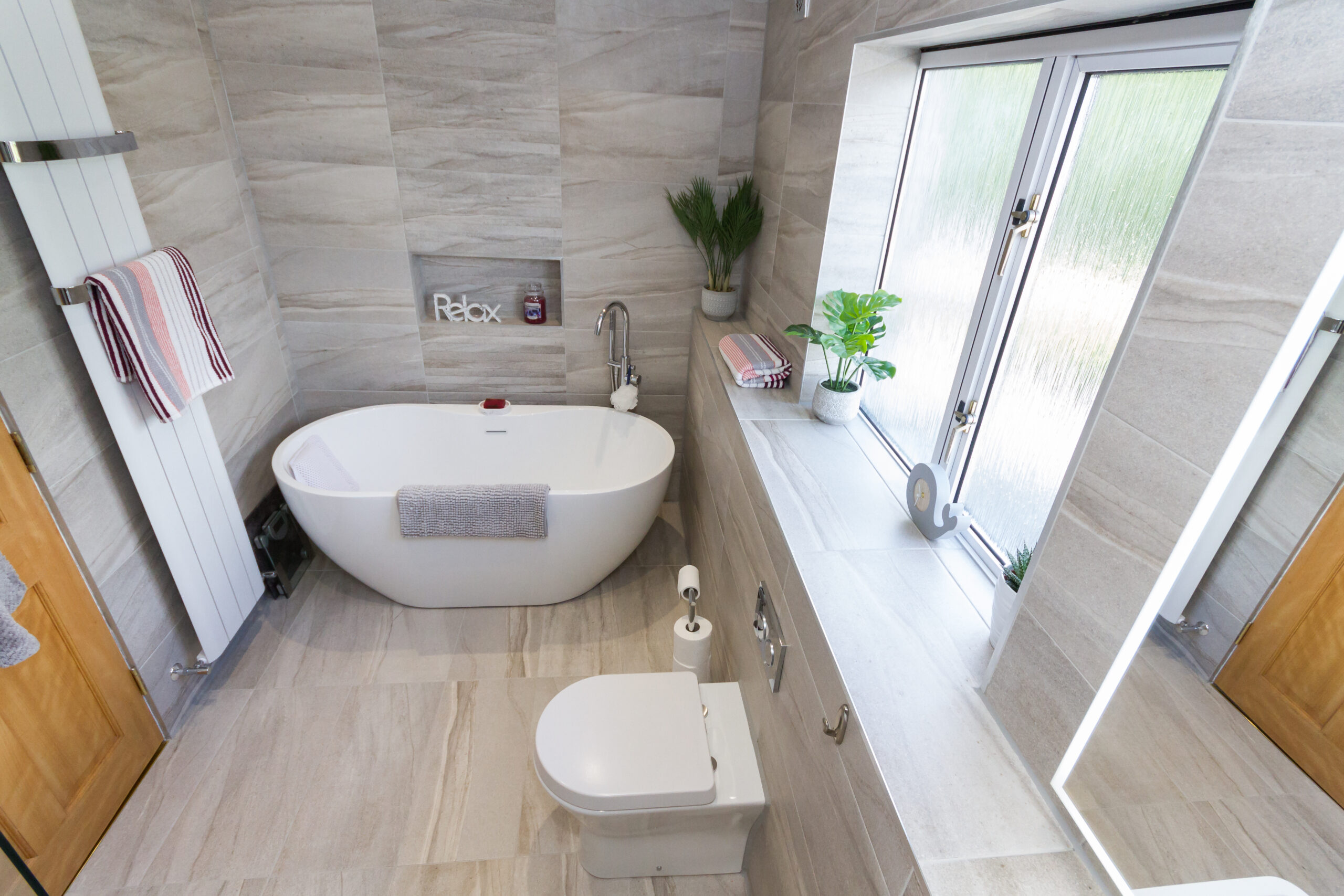 Linlithgow Bathroom Installation
Today we're bringing you a fantastic Linlithgow Bathroom Installation that was carried out by the team a month or so ago.  Our 'Before & Afters' are very popular and are particularly useful to potential customers to see the quality of our workmanship and in providing bathroom inspiration and ideas.
This particular bathroom is a good size, accommodating a separate bath and shower, however, the old bathroom was a bit dated with dark blue tiles and old-style bath and shower enclosure.
First of all, although the configuration is basically the same, replacing the cubicle shower with a frameless walk-in has created a much more contemporary streamlined look.
Secondly, we love the choice of tiles.  There is a feature tile in this range that can be taken along one wall or in a specific area.  This tile also contrasts beautifully with the white vanity unit, which allows for ample storage.
The old-style bath has been replaced with a very contemporary stand-alone Carron bath.  Again, this has created an ultra modern look.
An LED mirror also adds another touch of luxury.
Finally, the WC.  We find that most of our customers opt for our best-selling Rak Rimless WC, because it combines style with a hygienic design.  The soft close lid, is also removable to aid cleaning.
A modern vertical towel rail with towel hangers adds a stylish touch too.
What an awesome transformation! We just love it!
The overall feeling, is that of a clean, crisp, contemporary relaxing space!
Now a little bit about us.
Bathroom Centre Fife
Bathroom Centre Fife is based in Dalgety Bay within the Industrial Estate (next to Screwfix), with easy access across the Kingdom of Fife.
We are Open 7 days a week.  For opening hours and lots of useful information, please check out our fantastic website.
Pricing is easy with our extremely competitive Bathroom Packages.
We are so proud of our reviews!  We've built up in our Stirling showroom and we expect to build up the same in Fife.  We are committed to providing a quality service to our customers and pride ourselves on going the extra mile.
Follow us on Facebook, to keep up to date with our latest bathroom transformations, bathroom products and of course our fab competitions.
At Bathroom Centre Fife, we fit quality bathrooms, week in week out.  Real bathrooms for real people at really good prices.  First class, quality, customer service and installations!!
Thanks for taking the time to read the latest blog from Bathroom Centre Fife.
Remember, if you're bathroom needs a facelift, contact us now for a free survey.