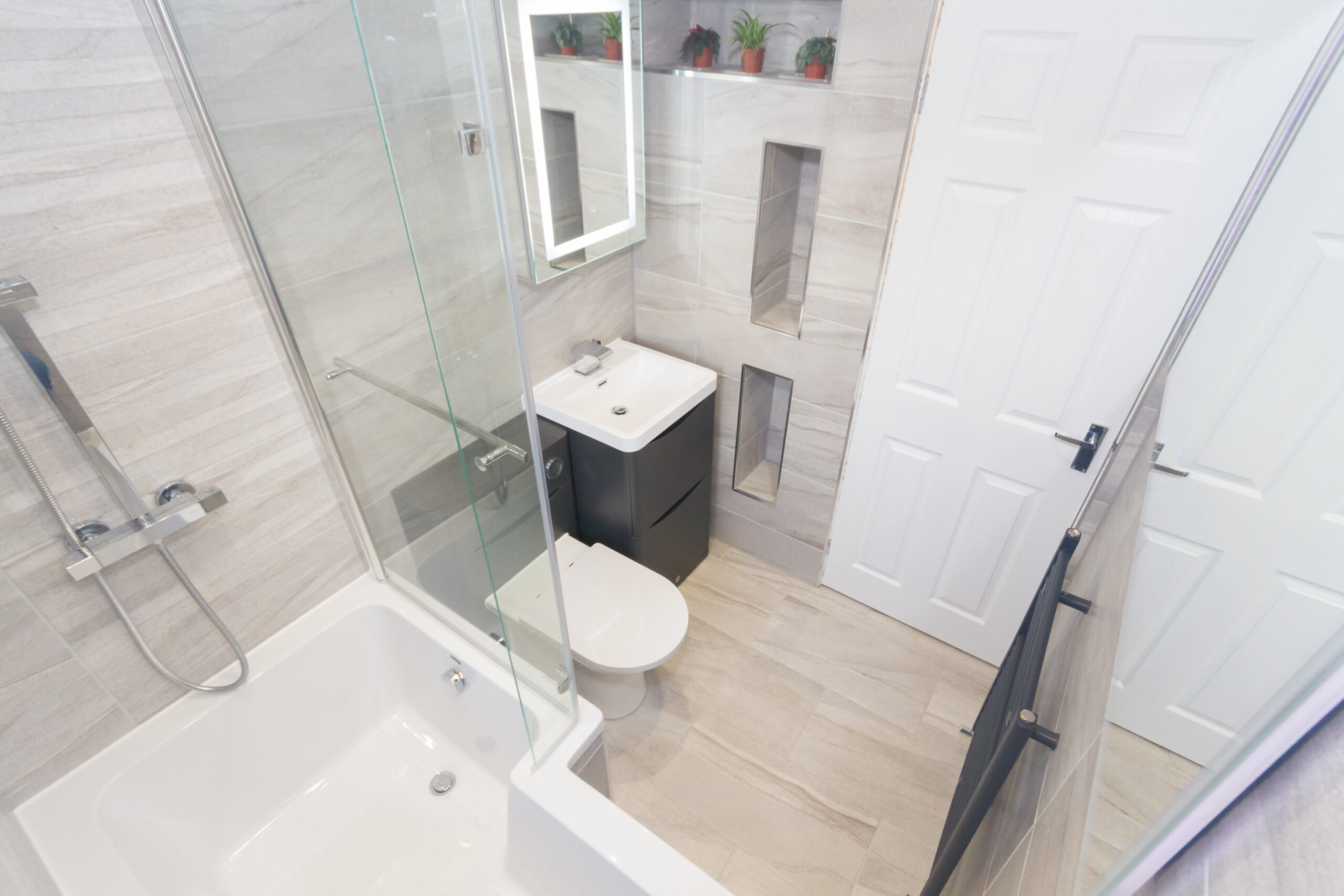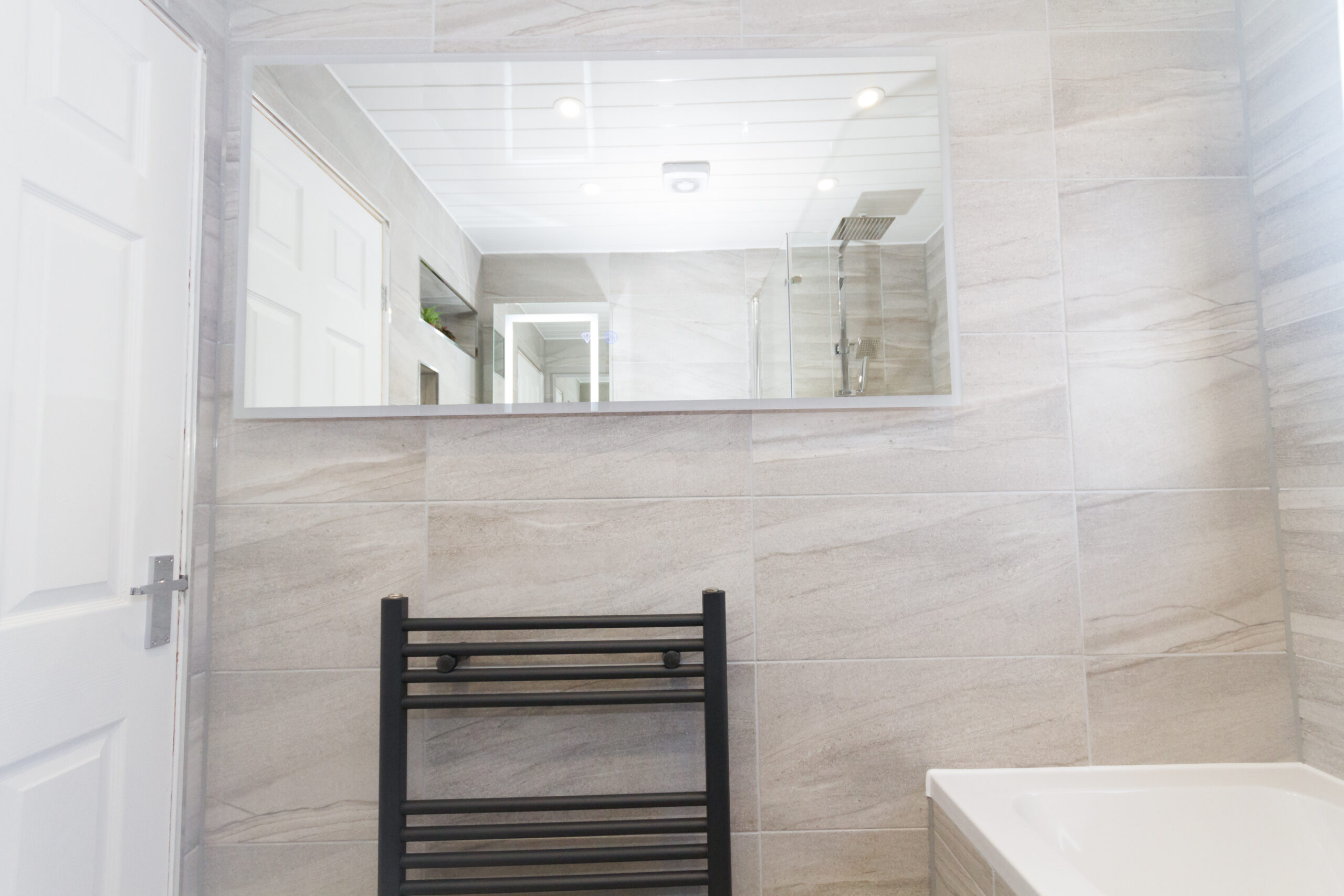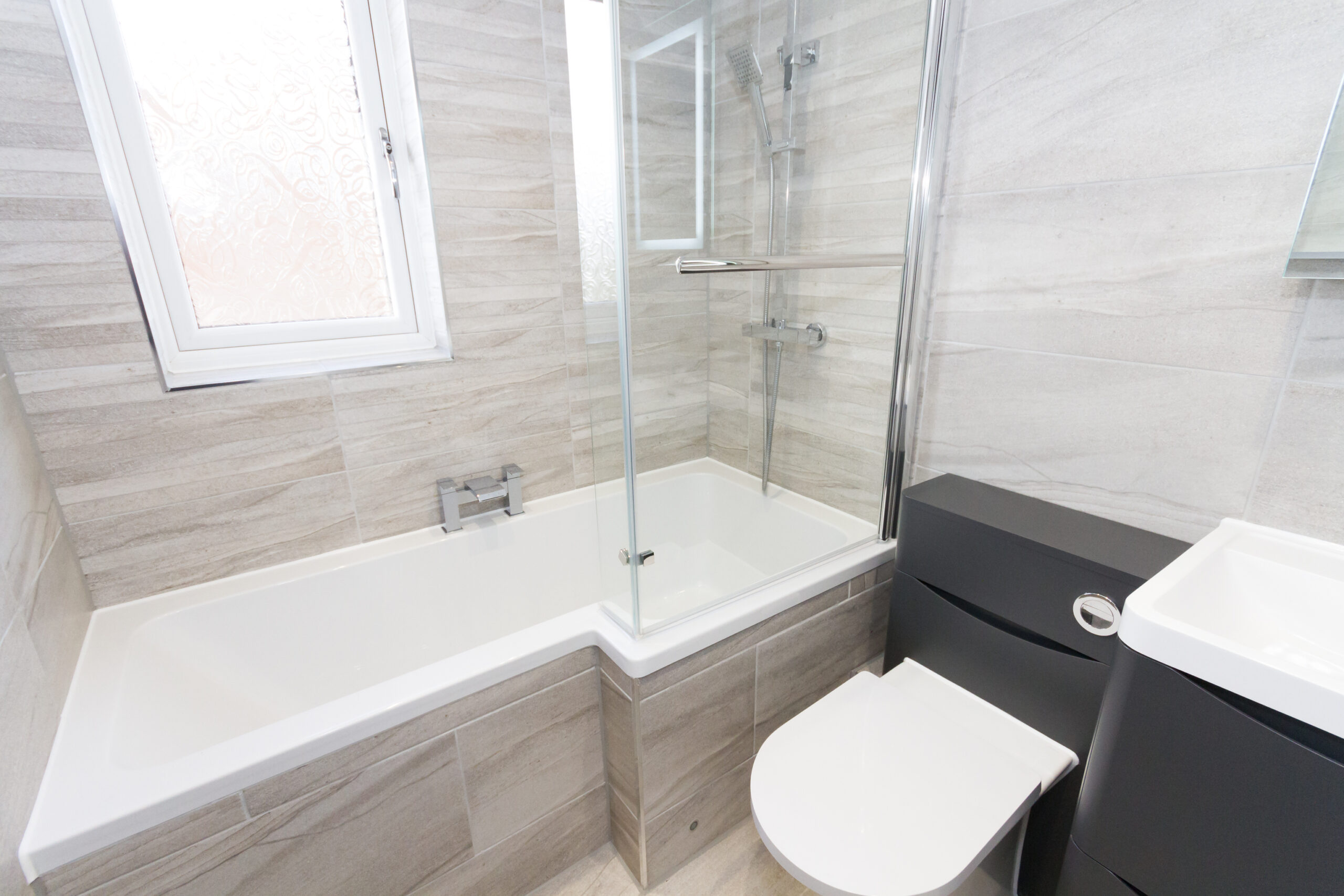 Rosyth Bathroom Installation
We hope you enjoy this week's blog, a fantastic Rosyth Bathroom Installation Bathroom Update. Our 'Before & Afters' are very popular and are particularly useful to potential customers to see the quality of our workmanship and in providing bathroom inspiration and ideas.
First of all, the most obvious change in this bathroom is the positioning of the bath.  It has been turned underneath the window and it's opened the room up and given the illusion of more space.
Secondly, our customer has chosen for a modern Carron P-shaped bath and matching bath panel.  This bath is very stylish and gives a contemporary look to the room.
Thirdly, our customer opted for these fantastic grey tiles, that you will find in the Garry bay in the showroom.  They have proven very popular with our customers and it's easy to see why, as they are so versatile and offer a feature tile, which has been run along the bath and shower area.
They choice of a two-drawer anthracite vanity unit provides a nice contrast against the tiles and also provides ample storage space, for all those lotions and potions.
An LED mirror has been added directly above the vanity unit.  This is another luxurious touch but also provides great lighting for make-up application or shaving.
Finally, we've found most of our customers opt for our best-selling WC – the RAK Rimless WC, because it combines style with a hygienic design.  The soft close lid, is also removable to aid cleaning.
Basically, another great job by Team BCF
I'm sure you'll agree this is a fantastic transformation!  Who wouldn't want to relax in this beautiful bathroom??
Now a little bit about us.
Bathroom Centre Fife
Bathroom Centre Fife is based in Dalgety Bay within the Industrial Estate (next to Screwfix), with easy access across the Kingdom of Fife.
We are Open 7 days a week.  For opening hours and lots of useful information, please check out our fantastic website.
Pricing is easy with our extremely competitive Bathroom Packages.
We are so proud of our reviews!  We've built up in our Stirling showroom and we expect to build up the same in Fife.  We are committed to providing a quality service to our customers and pride ourselves on going the extra mile.
Follow us on Facebook, to keep up to date with our latest bathroom transformations, bathroom products and of course our fab competitions.
At Bathroom Centre Fife, we fit quality bathrooms, week in week out.  Real bathrooms for real people at really good prices.  First class, quality, customer service and installations!!
Thanks for taking the time to read the latest blog from Bathroom Centre Fife.
Remember, if you're bathroom needs a facelift, contact us now for a free survey.